Thornton Chase was the first American – and indeed the first person in the entire Western World – to become, and remain, a Baha'i for the rest of his life. He was devoted to the Baha'i Faith at a time when few in the United States of America or Canada had ever heard of it. He traveled widely to speak about the Faith. He wrote and published articles about the Faith and letters of encouragement to many people. He, also, wrote letters to Abdu'l-Baha who sent him loving responses.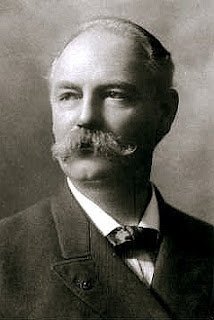 In 1898 little more than six years after the ascension of Baha'u'llah, Thornton Chase, the formerly devout Christian, and earnest American seeker who became a Baha'i in 1894 after investigating the teachings of many religions wrote a letter to Abdu'l-Baha in which this passage appears:
"…. I humbly beg for the privilege of teaching His Truth, and that I may be chosen as a means whereby many shall learn of Him and come to acceptance of Him. I beg earnestly for the Power of Perception, that I may perceive the truth from the false, the real from the apparent; for the power of Logic, that I may reason correctly, and be able to detect and overthrow erroneous reasoning; for the Power of Expression, that I may teach with such power and clearness that I may convince the hearts of the people, and that they may be led to desire and seek for the Truth …."
In 1909 Thornton Chase wrote a book called The Baha'i Revelation which Dr. Robert Stockman, who is acknowledged as the foremost historian specializing on the Baha'i Faith in America, writes is "one of the most comprehensive and accurate introductions to the Baha'i Faith written by an early American Baha'i." Another said, "The work emphasized the Baha'i Faith and its teachings as a vehicle for personal spiritual transformation."
When Abdu'l-Baha visited California He asked to be taken to the grave of Thornton Chase. There Abdu'l-Baha threw Himself on Thornton's grave stone and wept inconsolably. The Baha'is present were shattered by the intense grief of Abdu'l-Baha.
Thornton was born in 1847 and died in 1912. He had a difficult life. His mother died 18 days after he was born and when his father remarried, he was sent away to live with a foster family. Then, while a teenager, he lived in the home of a Baptist minister. He received a thorough grounding in the Baptist faith which he enjoyed because he loved to sing in the choir. In May 1864, during the American Civil War, Thornton, who was white, was put in charge of 100 colored troops who fought two battles near Charleston, South Carolina. He was wounded and lost hearing in his left ear. Shortly thereafter, he was promoted to Captain and commanded other colored troops.
After the Civil War he was employed in various capacities and after opening a business he married. But, later he experienced various business reversals, so much so that in 1873 he was in despair and felt himself a failure. Nevertheless, he had a personal experience of the "unspeakable" love of God and His "absolute oneness." These experiences set off a spiritual quest. Unfortunately, during this time his wife, with whom he had two daughters, divorced him. Thornton was devastated. His life was upside-down.
As a Christian, Thornton Chase was devoted to Jesus. But after experiencing the divisiveness between Christian churches he decided to expand his horizons. He became an ardent seeker who enjoyed learning about different religions. In 1894, while living in Chicago, he began studying the Baha'i religion. The next year, Thornton Chase became a Baha'i and for the rest of his life this sincere man, on whom Abdu'l-Baha bestowed the title of "Steadfast," was a pillar of the Baha'i Community in the United States of America.
At the request of Abdu'l-Baha, the life and service of Thornton Chase is commemorated every year by prayers and a community gathering at his grave side in Englewood, California. He is known as the first American Baha'i, and no greater testimony to his life is there than this one written by Abdu'l-Baha:
"This revered personage was the first Baha'i in America. He served the Cause faithfully and his services will ever be remembered throughout future ages and cycles. He has written many books in this Cause and they will be studied carefully by the coming generations. He traveled once to Acca and there we associated with each other for several days. Indeed he became free from the troubles of this world. No matter how long he might have remained here, he would have met nothing else but trouble. The purpose of life is to get certain results; that is, the life of man must bring forth certain fruitage. It does not depend upon the length of the life. As soon as the life is crowned with fruition then it is completed, although that person may have had a short life …. Praise be to God! the tree of Mr. Chase's life brought forth fruit. It gave complete fruit, therefore he is free. He attained to eternal rest. He is now in the Presence of Baha'u'llah."